Welcome to Our Website
Chan Can Wok is a restaurant specializing in Oriental cuisine, both Cantonese and Szechwan. Well known for our sizzling platters, all dishes are prepared using ultra-fresh ingredients and served piping hot. In addition, our menu offers a wide variety of vegetarian meals to promote even healthier eating. Check out our menu for more details.
Besides our excellent cuisine, what sets us apart from many other Chinese restaurants is the ambience and service... a very cozy and elegant atmosphere.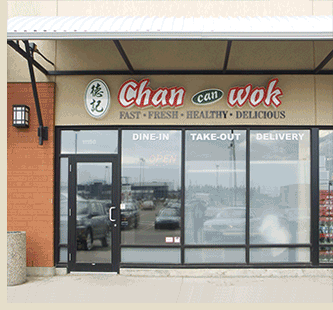 Our restaurant seats approximately 16-20 people. Reservations accepted.
CHAN CAN WOK
11150 Ellerslie Road
Edmonton, Alberta T6W 1A2
Phone (780) 969-9997
You can order take-out and delivery. Delivery however is limited to certain areas and hours. To place an order or for more details, please call us at: (780) 969.9997.
We offer catering services to customers. We have catered parties, festivals, weddings, and many other special events. If you are interested in our catering services, please call us (780) 969.9997 for more details.
SAVE ON PICKUP ORDERS
5% OFF (PAY BY CASH)*
*ORDERS $50 AND UP BEFORE TAX
SEE PICK-UP LOCATION MAP
---
FREE DELIVERY**

**ORDERS $50 AND UP BEFORE TAX
& WITHIN 5KM RADIUS